Los Angeles Times
By Richard S. Ginell
October 16, 2017
original link
L.A. Chamber Orchestra brings Peter Oundjian back to the stand
The Los Angeles Chamber Orchestra's informal auditions for a new music director continued Sunday night at UCLA's Royce Hall as Peter Oundjian returned for a second look.
The Toronto-born conductor, 61, already juggles music directorships at the Toronto Symphony Orchestra and the Royal Scottish National Orchestra but is scheduled to step down from both posts at the end of this season. Other possible candidates include Thomas Dausgaard (conducting LACO on Jan. 30 and 31), who just got the music director's job at the Seattle Symphony next year, and Karina Canellakis (conducting LACO on April 21-22).
Oundjian had a terrific program to work with. Though Mozart's Symphony No. 40 was top-billed for box office purposes, two 20th century works were the real attractions.
Stravinsky's "Pulcinella" Suite is a miracle of erudition and fun where he tweaks, refracts, re-harmonizes and takes possession of several pieces by Pergolesi and some he thought were by Pergolesi but were later found to be the work of others. There are no better examples of how much fun this music is than the composer's own rhythmically high-spirited recordings, but Oundjian had some different ideas that didn't really click. The Sinfonia and Scherzino were too legato, too on the string, though lusciously played. Only when Oundjian cranked the tempo up to Stravinsky's pace in the Tarantella, the humorous Vivo and the go-for-it Finale did the performance take off.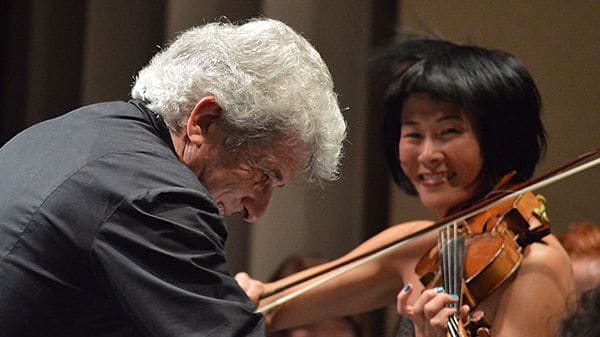 Oundjian with violinist Jennifer Koh. (Mike Mancillas / Los Angeles Chamber Orchestra)
A new violin concerto by LACO composer-in-residence Andrew Norman was supposed to have been given its first performance next, but the piece wasn't finished in time; the world premiere will go to the co-commissioning Indianapolis Symphony instead in May and be rescheduled here at a later date. Lutoslawski's frisky de facto violin concerto, "Chain 2," was inserted into the breach, with Jennifer Koh fearlessly playing the solo violin part.
Koh attacked her instrument vehemently, and the piece can easily take such volatility. Lutoslawski himself used to conduct on the Royce stage with his own graceful traffic-cop-like gestures during what he called the ad libitum (controlled free-form playing) passages in his music. Here, Oundjian barely moved at all, presiding over riots of color as well as concentrated Zen-like stillness from the orchestra.
As Jaime Martín did two weeks before with the LACO, Oundjian looked more physically animated and loose in the second half of his program, using his left hand to expressively shape a performance of Mozart's 40th in which the tempos felt exactly right. Likewise, LACO produced its best playing, with a bold sound in the Royce acoustic bigger than its ranks would suggest. Oundjian slipped in a beautifully controlled encore, a strings-only version of the brief, eloquent late Mozart work "Ave verum corpus."
Copyright ©2017 Los Angeles Times