Classics Today
By David Vernier
August 25, 2014
original link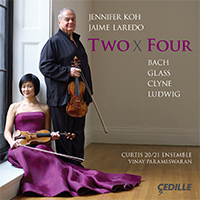 Available from
Cedille Records
Duos, Dynamic & Distinctive
Artistic Quality: 10
Sound Quality: 10
Jennifer Koh has been cited previously on this website several times for her "imaginative and illuminating programming"–and she's done it again on this disc of violin duets, artfully performed with mentor/teacher Jaime Laredo. In her earlier projects for Cedille, she explores a wide and very interesting array of music from Bach to Jennifer Higdon, Ysaÿe to Kaija Saariaho, and Elliott Carter to John Zorn, Missy Mazzoli, and Esa-Pekka Salonen, including a generous number of commissioned works and world premieres. The lineup here will not disappoint Koh's fans, offering a truly hip and stylish program of modern works for two violins linked to the genre's iconic masterwork, Bach's D minor concerto BWV 1043.
The Bach concerto is one of those pieces that has such a strong presence, its thematic and rhythmic character so ideally imagined, so immediately affecting and catchy–in the best sense–that you can't imagine the work existing in any other form or configuration. Vivaldi wrote many concertos for two violins, and they are very pleasant and skillfully written; but Bach wrote only one–and it defined the genre. Koh and Laredo probably have been playing this work in their sleep since they first learned it at about age eight–and here they infuse it with both youthful joy and energy and with an interpretive maturity earned from years of study and performance on the world stage.
Programs such as this, whose repertoire jumps across several centuries–in this case from the 18th to the 20th and 21st–can be a challenge for listeners, who may get yanked from one style and point of view to another, from a piece they love to one they can't stand, then back again to a more appealing work. Koh seems well aware of this pitfall, and her lineup is one that will keep anyone who stays around after the Bach totally engaged and satisfied with what comes next.
Anna Clyne's Prince of Clouds is a lovely, lyrical celebration of the violin's singing voice as well as its capacity for emphatic expression. Philip Glass' Echorus is, well, Philip Glass. Originally written for Yehudi Menuhin and his protégé Edna Mitchell (and therefore a logical choice for this collaboration), it unsurprisingly exhibits the robotic, emotionless, striding physique of the minimalist traveler, a warmly resonant and totally inoffensive interweaving of timbre and texture, a happy collaboration of two violins with reams of sensuous, spiralling harmonies.
David Ludwig's 2012 Seasons Lost is a substantial (16-minute) piece that is much more than the individual components of its form and structure–the scoring for two violins and string orchestra is less about the two violins than the larger, very profound confluence of forces, which make quite a powerful statement, as dynamic as anything that might be realized by a larger, more diverse ensemble. Its four movements are smart and inventive. The longest, "Summer (tertius)", has a theme reminiscent of a famous Chopin prelude; the final one, "Fall (quartus)", is a vibrant, fiery, gritty, string-minded tour de force, a flight of the bumblebee infused with a ferocious madness and menace, mellowed with a bit of intoxicated levity, then returning to a concluding wild rush to oblivion.
Koh and Laredo are in total command and are completely committed to the music and to convincing us regarding the worthiness of this program. There's not a weak composition or questionable moment in these performances–and Cedille's sound, recorded at the Curtis Institute of Music in March, 2013, is in keeping with the label's traditionally high standard. Highly recommended.
Copyright ©2014 Classics Today