NewsOK
By Brandy McDonnell
October 13, 2013
original link
Interview: Violinist Jennifer Koh to make Oklahoma City Philharmonic debut Saturday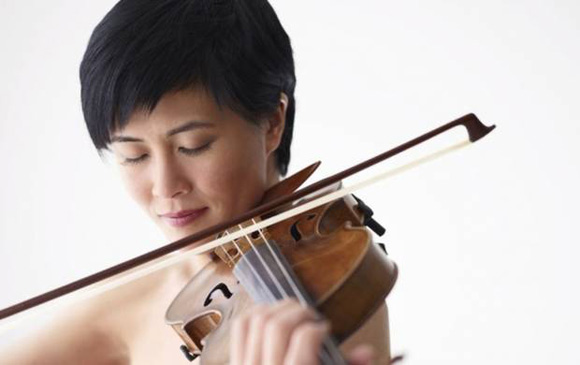 A version of this story appears in the Sunday Life section of The Oklahoman.
Violinist Jennifer Koh to make Oklahoma City Philharmonic debut
The Grammy-nominated musician will perform Barber's "Violin Concerto" with the philharmonic Saturday during a diverse program that will also feature Smetana's "The Moldau" and Beethoven's "Symphony No. 5."
In the midst of her myriad solo projects, Jennifer Koh relishes the chance to have a musical conversation with new partners.
"It's nice to meet a new orchestra and a new organization and a new conductor. And it's nice to work with people that you haven't met, just in the sense that there's so much potential … so that's exciting," Koh said in a recent phone interview from Los Angeles.
"I feel like a lot of the projects I do are really, really intense, and a lot of times they're solo and totally alone. And to have that contrast of working with a large group of people and have literally everybody onstage breathing together and communicating in this very visceral way through music is an amazing experience. That's something that I truly do love."
The violinist will make her Oklahoma City Philharmonic debut Saturday performing Samuel Barber's "Violin Concerto" in the latest concert in the orchestra's classics series.
"I think it's just gorgeous," Koh said. "It's kind of a treat for me to play it, and I enjoy coming back to it. I really do. And I think it's just the lushness of it actually and the beauty. And then of course, the last movement is very virtuosic."
Diverse program
The philharmonic will open Saturday's concert with Czech composer Bedrich Smetana's "The Moldau," which Executive Director Eddie Walker likened to "a musical painting."
"It's very picturesque music, and a lot of people know it from their early musical education. It's a beautiful piece. It's about a river, and it's really easy to 'see' the river flowing through these villages and hills and valleys of Eastern Europe," he said.
The anchor of Saturday's program will be "maybe the most famous piece of classical music ever written": Beethoven's "Symphony No. 5."
"It is so well-known and so beloved that on the one hand you might want to find something new in it — and that's one of the great things about this music that lasts for centuries is that there is so much in it that you can actually continue to find new and to make it sound fresh. So, the challenge is to honor the tradition of why the piece is important but to also make it fresh and very relevant for today," Walker said.
"I think it all fits together because it's variety. It will not all sound the same. It'll be a rich dinner of music."
He said the philharmonic is looking forward to performing with Koh on Barber's concerto, which he called "one of the classics of 20th century American music."
"She's a rising star and much in demand," Walker said.
Eclectic projects
Born in Chicago of Korean parents, Koh is debuting in Oklahoma City after traveling to Los Angeles this week for "Einstein on the Beach," a rare revival of the groundbreaking 1976 collaboration by Robert Wilson and Philip Glass. For each performance, the violinist undergoes extensive makeup and dons a wig to play the role of the famed physicist. This weekend's L.A. performances mark the final North American stop of the production's international tour.
"I have no acting experience. You know, I never did anything like that before. But it's interesting because now that we've been touring this for, I guess, a year and a half at this point, maybe a little more than that, it's been very hard for me to separate the music from the character that I play. So everything, the movement as well as the music, has kind of become all connected," said Koh, the first woman to play Einstein in the piece.
"It's been just an incredible working relationship with Robert Wilson, the director. … It was very inspiring to see somebody — 'cause Bob is over 70 — so dedicated to the art form and that it's possible to make your life like that. I think it's influenced me most profoundly in the fact that I know that that's what I want to do and that I know it's possible."
The Grammy nominee, who is now based in New York, also is continuing work on "Bach and Beyond," a series of three recitals exploring the history of the solo violin repertoire from Bach's six sonatas and partitas to modern-day compositions. After spending five years securing funding, She has been working on the project for five years and in 2012 released the first of three planned CDs.
On Oct. 29, she and pianist Shai Wosner will release "signs, games + messages," an album featuring 20th century works by Central European composers Leos Janacek, Béla Bartók and György Kurtag.
Despite her many projects, Koh said performing in concert with various orchestras remains a vital part of her busy career.
"It's always been an important part in my musical life, like since I was a kid. There's something incredible about having a group of people being totally present and having that sense of communication … so it's always been compelling. I love doing projects — obviously — but this will always be a part," Koh said.
"It's a living process. It's something that's started by the composer and that continues by the performers on stage. But ultimately, it's only finished by the listeners, by the audience."
IN CONCERT
Violinist Jennifer Koh with the Oklahoma City Philharmonic
Program: Smetana's "The Moldau," Barber's "Violin Concerto" featuring Koh, and Beethoven's "Symphony No. 5."
When: 8 p.m. Saturday.
Where: Civic Center Music Hall, 201 N Walker.
Information: 842-5387 or www.okcphilharmonic.org.
-BAM
Copyright ©2013 newsok.com