Oregon Music News
By James Bash
May 22, 2013
original link
Koh tremendous with Bartók – Oregon
Symphony finishes season on an upswing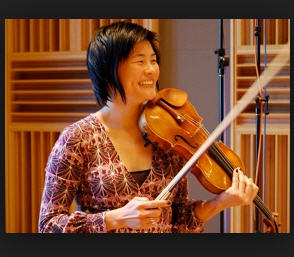 It may have been a bit of a gamble for the Oregon Symphony to put Bela Bartók's Second Violin Concerto on the final concert of the season, but in the hands of guest artist Jennifer Koh, it became a resounding success. That's because Koh's impeccable technique and high artistry captured the hearts and minds of the audience, which had filled almost every seat in the Arlene Schnitzer Concert Hall on Saturday evening (May 18). People listened intently to the various twists and turns of the piece, but Koh had a way of making the music highly personal and tangible. It was an amazing feat that went exceedingly well with the other pieces on the program: Johannes Brahms's Symphony No. 1 and the Overture to Franz von Suppé's opera, "Die schöne Galathee" ("The Beautiful Galatea").
Koh instantly grabbed everyone's attention right from the first note that she played, a low, husky tone that established a serious demeanor. But that soon gave way to sweeping scales, whispery passages, upwards glissandos, and fragmentary staccato and legato phrases. One of the best moments came when Koh jumped to some extremely high notes that she played with an exquisite straight tone, and later in the same movement, she executed a series of micro-close tones and followed it up with a stupendously virtuosic cadenza. Somewhere in the last movement, she teased everyone with a brief, enchanting melodic line. Overall, Koh gave the piece emotional weight that resonated with the audience so much that they gave her a warm, extended standing ovation.
The orchestra gave a thoroughly engaging performance of Brahms's First Symphony.  Wonderful phrasing, terrific intonation, excellent blend, good pacing… it was all there. Every section of the orchestra contributed to the outcome, with the principals shining during their solos. Principal timpanist Jonathan Greeney demonstrated terrific dynamic control from the get go, and concertmaster Sarah Kwak elicited a lovely sound during her brief solos. Sometimes the sound from the French horns got a little buried by their colleagues, and Jeffrey Work's mouthpiece unfortunately slipped out of his hands during a poignant moment (he got it back just in time to play his solo line). But minor quibbles aside, this was an outstanding Brahms.
The concert kicked off with a thoroughly delightful rendition of Suppé's Overture.  Associate principal Joseph Berger created some stellar sounds, including tones that sounded far away. Principal flutist Jessica Sindell and piccolo Zachariah Galatis executed thrilling runs in all directions. All of the strings excelled in their playing, especially the cellos and basses with their pizzicato phrasing. The final waltz-like section made me want to look for a Sachertorte during intermission.
Music director Carlos Kalmar conducted all of the pieces on the program with lots of energy and understanding. The orchestra continues to play at a very high level, and it will be a pleasure to hear the ensemble when next season starts up. Hopefully, we will get to hear Koh again in the very near future. She is a treasure.
Copyright ©2013 Oregon Music News