Listen: Life with Classical Music Magazine
By Collin Eatock
Fall 2012
PDF
Violinist on the Beach
Jenifer Koh is touring in a revival of the Philip Glass masterwork.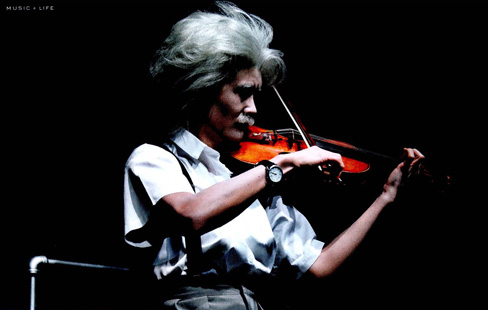 THE TWENTIETH CENTURY'S most celebrated physicist is back. Three-and –a-half decades after composer Philip Glass and playwright Robert Wilson first parked Albert Einstein on a beach, he's once again on stage, sawing away at his fiddle.
A revival of Einstein on the Beach is currently touring the world. In June it played at Toronto's Luminato festival. From September14 to 16, 2012 the opera will be staged at the Brooklyn Academy of Music, and from October 26 to 28 it will be presented in Zellerbach Hall at UC Berkeley, in California. After that, the show heads off to Amsterdam.
Portraying the rumpled old genius is thirty-six-year-old American violinist Jennifer Koh. That might seem like as unlikely casting choice, but she'll be in all the upcoming American performances decked out in a wig, mustache and plenty of makeup.
Back in June, in a hotel lobby—the morning after Einstein opened in Toronto—a slightly weary Koh explained that she's enjoying her role in the show. "The glue for the mustache is tough on my skin," she said with a smile, "but I still love it. Einstein is intense."
Intensity is what Koh is all about. The 1994 Tchaikovsky Competition Laureate has a penchant for testing her limits in daring and daunting ways. Lat October she played all six of Bach's solo sonatas and partitas in a single recital at New York's Academy of Arts and Letters. The New York Times called her marathon performance "a feat of physical and imaginative stamina."
The program was both a culmination of her love affair with Bach and part of an ongoing exploration of the solo violin literature. Sure, she plays concertos, chamber music and violin-piano repertoire, but she especially likes to appear before audiences with nothing but her 1727 Stradivarius.
Her Bach and Beyond solo recitals combine unaccompanied repertoire from the eighteenth century with contemporary works by Elliot Carter, Kaija Saariaho, Essa-Pekka Salonen, Luciano Berio and others. (Solo violin rep from the nineteenth century doesn't much appeal to her—and she wrinkles her nose at the mention of Nicoló Paganini.)
For Koh, it's all about creating a profoundly meaningful experience, for herself and for her audience.
"A concert can be life-changing," she observes. "Now I only want to do things that have life-changing potential. That's the purpose of art."
Copyright ©2012 Listen: Life with Classical Music Magazine