By Margie Fishman
The News Journal
May 18, 2012
Bridging past and present
DSO's guest violinist will perform with her Curtis music instructor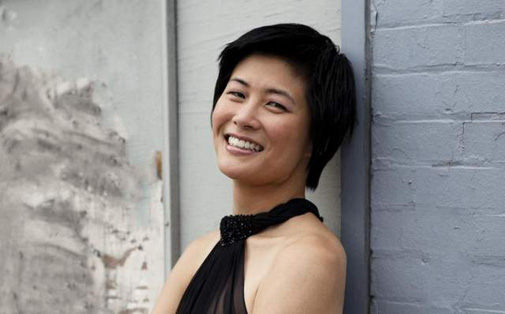 Violinist Jennifer Koh will bring her 1727 Stradivarius,
called "the General DuPont," to perform in the orchestra's season closer. / New York Times / Chad Batka
Violinist Jennifer Koh's artistic agony is also her inspiration.
She wouldn't have it any other way.
Last year, Koh went into lockdown mode to prepare for a grueling three-hour performance of Bach's complete Sonatas and Partitas for solo violin, long considered to be the ultimate test of a violinist's prowess.
She didn't leave her apartment for two weeks.
Like a method actor immersed in a character, Koh, a former child prodigy, fervently practiced for 14 to 16 hours a day. When she was not preparing, the revered composition intruded on her dreams; she awoke with weary fingers.
Gradually, it left its imprint on her.
"To live in that space, it's almost like living with no skin," she recalls. "You're so sensitized."
Koh, playing on her 1727 Stradivarius called "the General DuPont," will bring that same flamboyant intensity to The Grand when she performs with the Delaware Symphony Orchestra today and tomorrow to close out the season.
A 2002 Curtis Institute of Music graduate, Koh will be joined by her former teacher, Jaime Laredo, to perform the world premiere of contemporary composer David Ludwig's "Concerto for Two Violins," and its muse, the famous Bach Double Violin Concerto. The Delaware Symphony was a lead partner in commissioning the work by Ludwig, who serves as Curtis' artistic chair of performance studies.
Rounding out the program are two other time-traveling works: Maurice Ravel's "La Valse," reflecting on late 19th century Vienna, and Paul Hindemith's "Symphonic Metamorphosis," drawing on Carl Maria von Weber's piano duets of the early 19th century. As a special treat, Delaware Symphony music director David Amado will perform several of the Weber duets with keyboardist Tracy Richardson.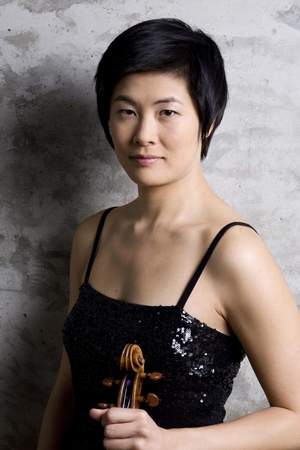 Jennifor Koh and Jaime Laredo, who was her teacher at
the Curtis Institute in Philadelphia, are guest artists who will play
a duet in Friday and Saturday's Delaware Symphony Orchestra.
/ Courtesy Delaware Symphony Orchestra
This season also brings a new executive director to the symphony helm. In February, Lee Williamson was appointed to succeed Lucinda Williams, who resigned last year. A euphonium and trombone player, Williamson came to Delaware from Rutgers University, where she headed corporate and foundation relations.
This weekend's concerts mark the debut of "Two x Four," a project conceived by Koh to celebrate the relationship between student and mentor through four works. The other two pieces, Philip Glass' "Echorus" and a newly commissioned piece by composer Anna Clyne, will be performed with other orchestras across the country, including the Curtis Chamber Orchestra, in coming seasons.
Koh and Laredo "are just such wonderful, thoughtful musicians," says Amado. "They bring an enormous amount of insight to whatever they touch."
The Bolivian-born Laredo, who is married to and performs with cellist Sharon Robinson, taught Koh for five years at Curtis. The pair has teamed up several times before to perform the Bach Double Concerto. Now conductor of the Vermont Symphony Orchestra with a faculty appointment at the Cleveland Institute of Music, Laredo says collaborating with such a gifted student is "what every teacher dreams of."
"She was always one of the bright lights of my teaching life," he continues. "When she goes into any project, it's not 100 percent, it's 1,000 percent."
Koh similarly lavishes praise on her mentor.
"He gives a musician a lot of space for her voice to be heard," she says. "He really gave me faith in myself before I even had it."
Accidental violinist
Koh, 35, began playing the violin at age 3 by default. All the slots for cello and piano had been filled at the Suzuki-method program near her home in suburban Chicago.
Her parents, both Korean War refugees, packed their daughter's schedule with activities they never enjoyed as children: ice skating, rhythmic gymnastics, diving, ballet. Swimming and violin were the two that stuck.
By 11, Koh was a featured soloist with the Chicago Symphony Orchestra, attacking notes with elegant poise in her bouffant taffeta dress.
Shortly after, she won the top violin prize (tied with another violinist) in the prestigious International Tchaikovsky Competition in Moscow. Two music prizes followed: the Concert Artists Guild Competition and an Avery Fisher Career Grant.
Rather than major in music, Koh studied English literature at Oberlin College before moving on to Curtis, where she worked under Laredo and violinist powerhouse Felix Galimir, now deceased.
Koh draws parallels between poetry and music. In poetry, the use of a comma, a semicolon, a line break is very deliberate, she explains. Each word has little meaning on its own; the relationship between words is where the writer's intent is revealed.
The same is true for the dialogue between notes and the pauses in a musical phrase, she continues. "There's as much meaning in the silence as there is in noise."
"Music is one of the most organic forms of human expression," she says.
Koh has performed with leading orchestras and conductors around the globe, including the Philadelphia Orchestra, the Cleveland Orchestra, the New York Philharmonic and the Czech Philharmonic. She has released six albums under the Chicago-based Cedille label, including the Grammy-nominated recording "String Poetic."
Likened to an old-school Russian violinist, Koh tours an average of two days a week. She met her husband, pianist Benjamin Hochman, while studying at Curtis. The couple lives in a New York apartment with a long layout, affording them a sound barrier for individual practices.
Growing up, Koh grew impatient with declarations that classical music was "dead," appreciated only by stuffy people in penguin suits. Straddling the classical and contemporary worlds, she seeks to make the past more relevant, engaged in a dialogue greater than herself.
Beyond Bach
In 2009, to commemorate the 325th anniversary of Bach's birth, Koh presented "Bach and Beyond," a series of three recitals connecting Bach to contemporary composers like Elliott Carter, Esa-Pekka Salonen and Kaija Saariaho. Her "Bach and Beyond Part II" CD will be released this fall.
Last year, Koh accomplished the rare feat of performing Bach's complete Sonatas and Partitas at Columbia University. A New York Times critic lauded her "sheer virtuosity" and "deeply expressive account," noting that Koh at one point wiped away tears. In reality, it was sweat, remembers Koh.
"It was hard technically, physically, emotionally and in every way conceivable," she recalls. "But it was the most rewarding thing I've ever done in my life."
Koh will reprise the performance this summer in Massachusetts and Virginia.
She will also perform the solo violin role of Einstein in a production of Robert Wilson and Philip Glass' "Einstein on the Beach" at Toronto's Luminati Festival in June. Koh was the first female to perform in the role.
Recently, she received a grant from the Asian Cultural Council to travel to South Korea in August to experience traditional shamanic music.
Last year, Koh teamed up with composer Mark Grey to perform "Mugunghwa: Rose of Sharon" as part of the Los Angeles Master Chorale's "Stories from Korea" program. Named for South Korea's national flower, the piece speaks to the experience of Korean War survivors.
It was a sentimental exploration for Koh, whose mother and her family walked the entire length of the Korean Peninsula over three years to escape from the north.
Music demands total honesty, she says, awakening the audience to myriad possibilities. Koh maintains that she will only play music she "believes in" — committed to exposing her audience to lesser-known pieces.
Her "Music Messenger" outreach program has taken her to classrooms across the U.S., as well as in Japan and Germany, to expose children to music's multiple layers of meaning at a time when public schools are cutting funding to the arts.
Shy off-stage, Koh enjoys cooking because it offers immediate, tangible results. Music, by contrast, invites constant analysis and revision.
"You are creating these moments in time that are timeless," she says.
IF YOU GO
WHAT: "Reflections," Delaware Symphony Orchestra concert will feature violinist Jennifer Koh and her former instructor Jaime Laredo.
WHEN: 8 p.m. Friday and Saturday
WHERE: The Grand, 818 N. Market St., Wilmington
TICKETS: $27-$57; 652-5577, www.ticketsatthegrand.org.
© 2012 The News Journal