Winnipeg Free Press
By Gwenda Nemerofsky
January 30, 2012
original link
Festival gala calls for 'open ears'
Trio of varied works launches series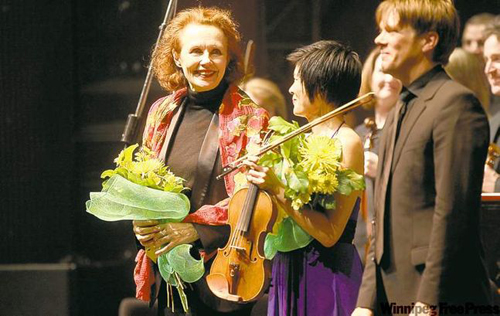 RUTH BONNEVILLE / WINNIPEG FREE PRESS
Finnish composer Kaija Saariaho, violin soloist Jennifer Koh and
WSO music director Alexander Mickelthwate are given a standing ovation at
the New Music Festival's opening gala at the Centennial Concert Hall Saturday evening.
Distinguished guest composer Kaiija Saariaho summed it up best at Saturday night's opening concert in her onstage statement to CBC host Bill Richardson. She encouraged us to have "open ears" and warned us: "Don't expect to hear something you've heard before."
Armed with that advice, a good-sized and very anticipatory crowd launched into the 21st edition of the world-renowned Winnipeg Symphony Orchestra New Music Festival.
The Canadian première of Finnish composer Saariaho's 1989 work, Du Cristal, whose title originates from Henri Atlan's book Entre le cristal et la fumée (Between Crystal and Smoke) opened with a blast of brass, evoking a cold hardness, light glinting blindingly. As the strings' vibrato warbled, the light shifted and xylophone tinkles fell like icicles on our ears. A beautiful eerie wind blew gently and a representation of wind chimes lulled us.
Saariaho used the instruments of the orchestra (and synthesizer) as acoustically malleable tools to unfold not just an auditory experience but a vivid vision for the audience. Conductor Alexander Mickelthwate guided the piece in an unbroken continuum, tempered and well-timed.
Things grew stormy, timpani like thunder, brass bellowing. Spurts of piccolos ruffled and disappeared in the din. This is an emotional, if not warm piece, with harmonies burgeoning thickly; colours abound.
Outstanding Korean-American violinist Jennifer Koh soloed in Graal Theatre: for Violin and Orchestra before, attacking the demanding task with fearless, physical abandon. The opening movement, Delicato, left her very exposed, with only occasional accompaniment from trumpets, flute overblowing and prolonged string notes.
Repetitive, harsh and insistent, this piece has a biting edge that dares listeners to pay attention. Koh was marvellous -- displaying incredible versatility and technique. Yet one sensed but a singular emotion throughout the 25-minute saga -- a long time to hang onto one thought.
Smart programming brought back Georgian composer Giya Kancheli's theatrical Styx for Viola, Choir and Orchestra in a performance dedicated to Robert Turner, considered by many "the dean of Manitoba composers," who passed away last Thursday.
The Canadian Mennonite University Chorus, superbly prepared by Janet Brennerman and Rudy Schellenberg, sounded like a choir of angels. Principal violist Daniel Scholz's dulcet tone was a mystic caress.
gwenda.nemerofsky@shaw.ca
Concert Review
Winnipeg Symphony Orchestra New Music Festival
Opening Gala: Kancheli & Saariaho
Centennial Concert Hall
Jan. 28 Attendance: 1505
***1/2 out of five
Republished from the Winnipeg Free Press print edition January 30, 2012 D3
Copyright ©2012 Winnipeg Free Press