By Lizzie Simon
The Wall Street Journal
October 17, 2011
original link
Immersing in Bach's Solo Violin Works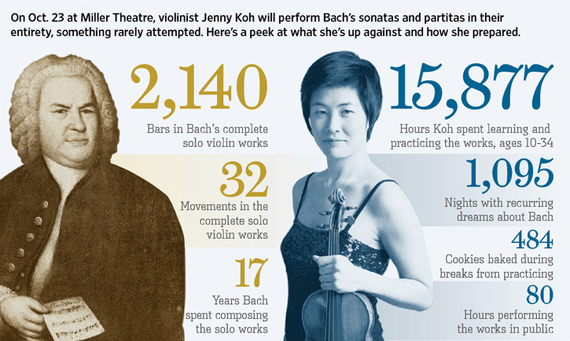 http://online.wsj.com
Since the age of 10, when she first began learning Bach's complete solo violin works, Jennifer Koh has logged in over 15,000 hours of practice on them. "It's crazy, right?" she said, after calculating. "Yikes."
Bach spent 17 years creating the 32 compositions in the early 18th century. While they were unpublished and unpopular in his lifetime, it's unlikely today that there's a living violinist who hasn't had them in his or her hands and head.
Ms. Koh will perform them for the first time in their entirety—a rare Mount Everest-ish feat for a violinist—at a 2 p.m. Oct. 23 concert presented by Columbia University's Miller Theatre at the American Academy of Arts and Letters, 633 West 156th St.
"What I think is beautiful," she said, "is that these pieces have been with me all of my musical life. It's like having an incredible friend." A rather demanding one. Johannes Brahms called the set "a whole world of the most deepest thoughts and most powerful feelings," which helps explain why they've haunted Ms. Koh's sleep an estimated 1,095 times. "The recurring dream can vacillate between extreme joy and abject terror," she said. "But I wake up and my hands are tired; I've been practicing."
A much sweeter byproduct of 15,877 hours of rehearsal is 484 cookies. She explained that the fruits of her musical labor can seem intangible, compared to what happens when butter and flour meet up with chocolate chips in the oven for 10 minutes. "I'm frequently on the road," she noted. "Otherwise it would be thousands of cookies."
© 2011 The Wall Street Journal