The New York Times
By Steve Smith
May 11, 2011
original link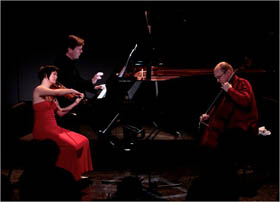 Joe Kohen for The New York Times
Movado Hour A chamber music program in the series featured,
from left, Jennifer Koh, Magnus Lindberg and Anssi Karttunen,
at Baryshnikov Arts Center on Tuesday evening.
Two by a Finnish Composer, and Variations Inspired by a Birthday
The Finnish composer Magnus Lindberg has become a familiar face to audiences of the New York Philharmonic, where he has been serving as composer in residence since the start of Alan Gilbert's tenure as music director in 2009. Mr. Lindberg's chamber music has received comparatively less exposure during his time in New York. (It was the focus of a Making Music program at Carnegie Hall in 2002.)
Two striking chamber pieces by Mr. Lindberg framed the latest Movado Hour program at the Baryshnikov Arts Center on Tuesday evening: one from near the start of his career, the other a premiere. Mr. Lindberg, an estimable pianist, was joined by Anssi Karttunen, a Finnish cellist who formed the groundbreaking electro-acoustic ensemble Toiimi ("It Works") with Mr. Lindberg and others in 1980; and Jennifer Koh, a riveting violinist whose New York profile rests largely on her precise, communicative delivery of contemporary music.
The program opened with Mr. Lindberg's Sonatas for Violin and Piano (1979). The title refers to the brief work's tripartite structure: in successive sections Mr. Lindberg treats similar musical gestures with Germanic sternness, French delicacy and Italian vitality. Flamboyant brutality and extremity of timbre lend the work a bracing charisma; Mr. Lindberg's exacting ear is evident in the violin's microtonal slurs and in hazy lines that seem to rise out of glowering harmonic clouds shaken up by the piano.
The distance between that piece and Mr. Lindberg's new Trio for Violin, Cello and Piano, a substantial work in three movements, is considerable. The specter of Ravel hangs heavy, as a Stygian rumble at the low end of the piano ushers in ravishing harmonies and voluptuously coiling melodic lines on violin and cello, building steadily toward an ecstatic climax. Still, accessibility doesn't imply compromise: Ms. Koh and Mr. Karttunen had their hands full with eerily whistling false harmonics and other intricate technical devices.
Mr. Karttunen's brilliant technique and gorgeous tone came into sharp focus in selections from "Mystery Variations" (2010), a compendium assembled for Mr. Karttunen's 50th birthday, in which 31 international composers wrote brief variations on the "Chiacona" of the Italian Baroque composer Giuseppe Colombi.
After the stately Colombi, claimed to be the earliest work for unaccompanied cello (actually, bass viola da gamba), Mr. Karttunen performed variations by Kaija Saariaho, Marc Neikrug, Steven Stucky, Mr. Lindberg and Tan Dun. The range of responses to the source material was illuminating: Ms. Saariaho summoned ghostly whispers; Mr. Lindberg, crackling energy; Mr. Tan, antic strumming and ritualistic vocal shouts. Common to each was the composer's obvious esteem for Mr. Karttunen's abilities.
Completing the program, Ms. Koh and Mr. Karttunen dazzled in Erwin Schulhoff's Duo for Violin and Cello (1925), in which winsome, folksy melodies and vivacious dance rhythms scarcely disguised treacherously difficult string writing.
A version of this review appeared in print on May 12, 2011, on page C7 of the New York edition with the headline: Two by a Finnish Composer, and Variations Inspired by a Birthday.
Copyright ©2011 The New York Times