Strings Magazine
By Corinne Ramey
March 30, 2011
original link
Koh Explores Old & New Solo Works in Her Own Distinct Way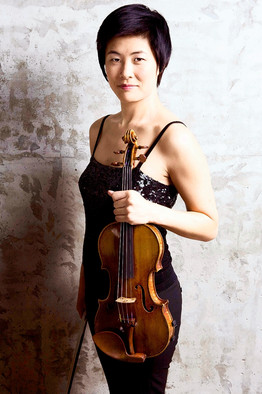 Jennifer Koh used YouTube
to find a visual artist. Photo: Fran Kaufman
New York violinist has paired Bach with newly commissioned works
Violinist Jennifer Koh knows that classical music matters. But figuring out why is the hard part. "I grew up in a time when everyone was saying that classical music was dead or dying, so in a way I had to validate why this art form was still so vital to me and so relevant," says the New York–based Koh, 34.
Her current project, a set of three solo violin recitals that she calls Bach and Beyond, is her way of wrestling with a pesky question. "Why are [the Bach Sonatas and Partitas] considered a summit of solo violin writing, and how is it that they're still influencing composition and composers?"
While Koh had been grappling with this question for a while, Bach's 325th birthday in 2010 gave her an opportunity to bring her brewing thoughts to the recital stage.
Over french fries and cappuccino, Koh describes her latest endeavor.
The pieces in the first recital program, including selections from the Bach works, which Koh has performed a dozen or so times so far, are intertwined in various ways. In addition to Bach's Second and Third Partitas, the program features works by Ysaÿe, Elliott Carter, Kaija Saariaho, and Esa-Pekka Salonen.
Overall, the program is a journey from light to dark and returning to light, bookended by the Partitas, Koh says. It's also an opportunity to explore the ways in which composers influence other composers. For example, the Ysaÿe uses snippets of Bach's Partita No. 3 in E major, and the Salonen echoes Bach through the use of a chaconne.
At a recent performance at New York's 92nd Street Y, Koh took no pause between the end of the E major Partita and the beginning of the Ysaÿe, an unconventional stylistic choice that illustrates the connection between the two works.
The second program, which she will began performing this year, is a series of first works for solo violin, including Bach's First Sonata and First Partita, a work by Luciano Berio, and new pieces from Anna Clyne and Phil Kline. "This program is all about beginnings, and about who we become, and who we can become," Koh says.
The final program, set for 2013, is filled with fugues, including those by Bach, Bartók, and a new work by John Harbison in which the fugue subject involves some of the letters in Koh's name.
Each of the three programs features a commission, sandwiched between the Bach solo works. In the current program, the commission is a video by London-based filmmaker and visual artist Tal Rosner, played with Salonen's "Lachen verlernt." Koh "trolled YouTube for months" looking for the perfect collaborator, and initially contacted Rosner, 32, through his website. The two met for pizza and immediately clicked. "He's what you want to find in a chamber music partner, but in a visual artist," she says.
The video encapsulates the idea that there are multiple ways of listening, she says.
Rosner agrees. "We live in the 21st century, and people are used to consuming multiple channels," he says. "It gives you another option of interpretation."
For the Koh commission, he designed a video of abstract images built from power cables and cityscapes. Koh often performs the piece using a click track, as well as visual cues.
Chicago-based composer Anna Clyne, 30, is one of the composers writing a new string work for the program. Knowing that her work will be paired with solo Bach and performed by Koh has influenced the creative process, she says. "Jenny has such a unique voice," she says. "I'm writing it for her, not just the violin."
But whether an artist is performing Bach or such new works as Clyne's, giving solo recitals isn't easy. "The moment I thought about performing the six Sonatas and Partitas I broke out into a cold sweat," Koh says.
But she has embraced the challenges of playing solo repertoire.
© 2011 Strings Magazine