The Los Angeles Times
By Rick Schultz
February 27, 2011
original link
Mark Grey's 'Mugunghwa' traces a Korean journey
In 'Mugunghwa: Rose of Sharon,' Mark Grey takes on the story of Korean War survivors through one man's poetry. It will be featured in the Los Angeles Master Chorale's upcoming 'Stories From Korea' program.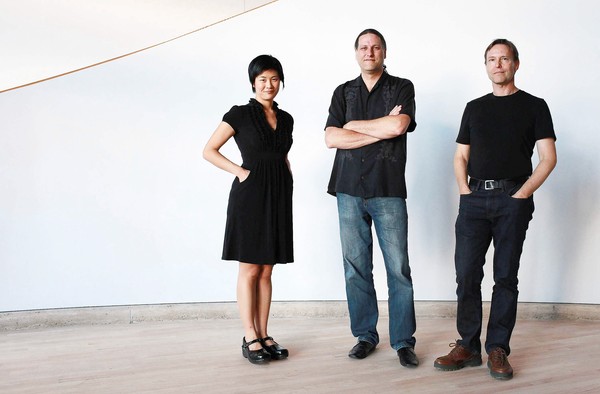 Violinist Jennifer Koh will perform the
work by Mark Grey, center, with…
(Katie Falkenberg, For The Times)
By the time Namsoo Kim escaped from a North Korean prison at the outbreak of the Korean War in 1950, he had been keeping a poetic diary about his harrowing experiences since his early teens. Kim's recently discovered writings, along with personal letters from his sister, serve as the text and structural spine for Mark Grey's innovative choral cantata, "Mugunghwa: Rose of Sharon."
Kim, who died in 2002, hovers over "Mugunghwa" like a ghost. His story stands for all survivors of the Korean War whose lives were turned upside down.
Commissioned by conductor Grant Gershon and the Los Angeles Master Chorale for Korean American violinist Jennifer Koh, the work runs about 40 minutes. It is scheduled to premiere in the second half of a "Stories From Korea" program next Sunday at Walt Disney Concert Hall. The concert also features works by several young Korean composers, including a piece for three choirs, "Me-Na-Ri," by Hyowon Woo.
The composer, violinist and conductor were together in Disney Hall in November and sat down to discuss "Mugunghwa."
A longtime sound designer for John Adams and the Kronos Quartet, Grey, 44, was born in Evanston, Ill., and grew up in Palo Alto. His last composition, the 70-minute "Enemy Slayer: A Navajo Oratorio," premiered in 2008 deploying a baritone soloist, full orchestra and chorus of 140 voices.
Grey described his new work as "a cross between a requiem, folk ceremony and celebration of one man's spirit to reconnect with family." "Mugunghwa" — the word translates as "immortal flower" and also refers to the Korean national flower — began to percolate after Grey ran into Koh in Baltimore in 2007.
"We wanted to look at displacement and immigration, but we were not sure how to do it," Grey said. "Then Jennifer started talking about her family, and I began to reflect on my Korean American friends. There was a common theme running through all these family histories."
That common theme included loss, the lingering memory of the horrors of war and survivors' feelings of displacement.
"When I met Mark, my mom was quite ill, and she was only speaking Korean in the hospital," Koh said. "I understand the language but don't speak it. It was really difficult because I felt this intense separation in just one generation — from my own mother, and from this idea of cultural heritage, because I had been completely raised in the Western tradition."
Koh, 34, grew up in Glen Ellyn, Ill., a comfortable farmland community outside of Chicago.
© 2011 The Los Angeles Times