The Times Herald
By Joe Barron
January 28, 2011
original link
Violinist and pianist in tune for sonatas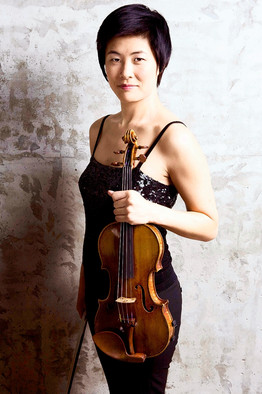 Fran Kaufman
American composer Ned Rorem once wrote that there are really only two kinds of classical music — French and German.
One deals with color, the other with structure, and all composers, regardless of nationality, pitch their tents more or less inside one of those camps.
The insight has merit, but to violinist Jennifer Koh, the categories are not so distinct.
They might not even be meaningful.
Koh will present a program of sonatas by Debussy, Ravel and Robert Schumann Thursday at Keneseth Israel, Elkins Park, and, having lived with the music long and intimately, she sees the two Frenchmen have as much in common with the German Schumann as they do with each other.
"The sensibility in Debussy I feel is very closely linked to Schumann," Koh said in a telephone interview. "Ravel is this clock you take apart."
Ravel might capture the attention with a striking melody in the violin, she said, but underneath, in the piano, a precise mechanism is grinding away — a contrast she also regards as Schumannesque.
"What's really a great privilege with recitals is that you have control over the kind of journey you want to create," Koh said. "I think what's interesting is the relationship between the pieces … Debussy and Ravel, there's a lot of differences between the composers."
The recital will also include "Tocar," a lovely seven-minute work completed just last September by the Finnish composer Kaija Saariaho.
"It will be an Elkins Park premiere," Koh said. "It might be the American premiere. We're kind of spreading our wings, I guess."
In concert, Koh plays as much of the mainstream classical repertoire as anyone else, but in her recordings, she tends to focus on works she believes deserve more attention than they ordinarily get.
As a result, she comes into contact with a great deal of new music, and she has made friends with a number of contemporary composers, such as Saariaho, who makes her home in Paris.
"I knew her music much more before I met her," Koh said. "We're both quite quiet people. At this point I feel very close to her, musically as well as personally."
Composers reveal themselves in their work, Koh said, and she often feels she knows them well before she meets them, although what she learns about them through their music has little to do with the random collection of mannerisms we call personality.
"When somebody's brilliant, you're not thinking, 'This person could be really nice,'" Koh said.
"It's how they see the world, and how they exist in the world that always comes through in their music."
As with the living, so with the dead. In a real way, Koh has come to know Robert Schumann personally. One might say she has befriended him, drawn by the sense of vulnerability she finds in his music.
"It's a fragility in the fact that it's so honest," she said. "It's so visceral. He's one of the composers I feel incredibly close to."
Koh's partner in the Feb. 3 recital will be pianist Shai Wosner, whose playing she admired long before they began performing together.
The pair has received rave reviews — one critic described them as "immaculately matched," despite their difference in demeanor.
Koh is "coiffed and glamorous," the critic said, while Wosner is "owlish and intellectual."
In successful collaborations, the differences complement one another as much as the similarities, and despite the occasional divergence, Koh said, she and Wosner are usually on the same path. As often as not, disagreements revolve around semantics.
"Sometimes the way we speak about music is different," Koh said.
"Sometimes we might actually be making the same point, but the language and the words we use are completely different. We respect each other's playing and intellect.
"That's been very inspirational for me. You're always looking for points of inspiration."
If you go
WHO: Violinist Jennifer Koh and pianist Shai Wosner
WHAT: Program of violin and piano sonatas
WHERE: Reform Congregation Keneseth Israel,
8339 Old York Road, Elkins Park
WHEN: Thursday, Feb. 3, 2 p.m. (dessert at 1 p.m.).
TICKETS: $15.
INFORMATION: 215-887-8700 or
www.kenesethisrael.org.
© 2010 The Times Herald