The New York Times
By Anthony Tommasini
December 26, 2010
original link
Proud Parents With Cameras, Clicking Away
You might think that Christmas Eve would not the best night to attract an audience to a classical music concert. Think again.
The New York String Orchestra, conducted by Jaime Laredo, played its annual Christmas Eve concert at Carnegie Hall, and the place was nearly full. Well conceived for a holiday evening, the 60-minute program started at 7 and featured two works by Mozart along with a Mendelssohn novelty: the Concerto for Violin, Piano and Strings in D minor — an exuberant, appealing and precocious work written when the composer was just 14. The outstanding soloists were the violinist Jennifer Koh and the pianist Benjamin Hochman.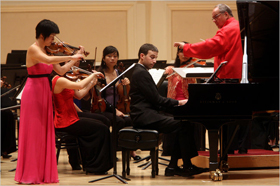 Hiroyuki Ito for The New York Times
The violinist Jennifer Koh and the pianist Benjamin Hochman,
the soloists for Friday's concert.
The New York String Orchestra is an unusual venture that has attracted a loyal following. The core of the program that resulted in Friday's concert is an intensive 10-day training seminar for young musicians, established in 1969 for the violinist and conductor Alexander Schneider and continued after his death in 1993 by Mr. Laredo. This year 64 students ages 16 to 25 from across the United States and Canada have been brought to New York for chamber music workshops and coaching sessions with master musicians.
Every year two orchestra programs are prepared during the seminar and performed at Carnegie Hall. The orchestra routinely attracts major soloists for these programs, as it did last year when Peter Serkin played the Brahms D Minor Concerto.
The audience on Friday was fortified by many parents of the players, as was clear from all the flashing cameras in the hall when the students walked onto the stage. Mr. Laredo began with Mozart's Overture to "Così Fan Tutte," a buoyant, lively performance in which the strings were especially good, playing with full-bodied sound and solid execution.
Mendelssohn, like Mozart a prodigy composer, wrote two indisputable masterpieces in his adolescence: the String Octet and Overture to "A Midsummer Night's Dream." Though not on that level, the Concerto for Violin, Piano and Strings is an ambitious and appealing piece.
The young Mendelssohn was a virtuosic performer on piano and violin, and this concerto is an unabashed showpiece for both instruments. The dramatic first movement begins with contrapuntal busyness that evokes Bach's minor-key concertos. The contrasting second theme is wafting music with an airy Italianate melody.
The piano and violin introduce themselves by trading rhapsodic flourishes and soon proceed to a competitive musical conversation. A real contest would not be a fair fight, for a piano could easily bully a violin. But Mendelssohn makes the piano behave here, and there are frequent violin excursions accompanied by filigreed runs and rippling arpeggios on the solicitous piano.
The Adagio movement is Mozartean and elegant. Everything breaks loose in the whirlwind finale, though the virtuosic writing for the soloists calms down during a stately episode. Mendelssohn's inexperience comes through in the run-on structure of the piece, which lasts nearly 40 minutes. Some of the extended solo passages are formulaic and, for all the dazzle, insubstantial.
Ms. Koh played with burnished sound and nimble technique; Mr. Hochman played with transparent passagework and rhythmic brio. These impressive young musicians, who are married, perform together regularly. But they have always had very independent careers, and both are thriving right now.
Mr. Laredo ended the program with a stylish and energetic account of Mozart's "Paris" Symphony, a compact, exuberant piece that Mozart wrote during a trip to Paris in a futile search for a job. At the time he was a veteran composer of 22.
The New York String Orchestra performs another program, with works by Barber, Brahms and Beethoven, on Tuesday at 8 p.m. at Carnegie Hall, (212) 247-7800, carnegiehall.org.
A version of this review appeared in print on December 27, 2010, on page C1 of the New York edition.
Copyright ©2010 The New York Times