By Steve Smith
The New York Times (original link)
April 23, 2010
A Conductor Visits Before Moving In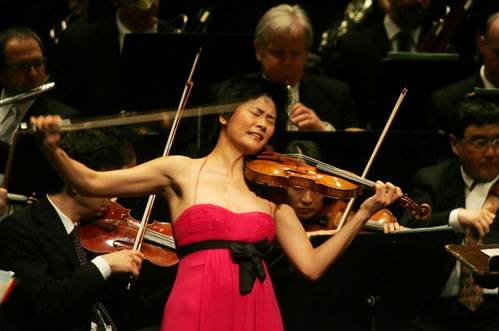 NEWARK — The New Jersey Symphony Orchestra offered a glimpse of its future on Thursday afternoon at the New Jersey Performing Arts Center here, when Jacques Lacombe, a fresh-faced conductor from the Trois-Rivières Symphony Orchestra in Quebec, led the ensemble for the first time since being chosen to be its next music director. Based on this initial encounter, a program featuring standard works by Brahms and Dvorak, the prognosis is decidedly positive.
Mr. Lacombe, 46, who has served as the assistant conductor and principal guest conductor of the Montreal Symphony Orchestra, is not yet widely known in the United States, though his two engagements at the Metropolitan Opera drew favorable notice. The New Jersey Symphony, which has lacked a music director since Neeme Jarvi stepped down last May, selected Mr. Lacombe in October based on a chemistry discovered during a guest engagement in November 2008. He will officially take over the orchestra in September.
As a beachhead from which to establish a career in the United States, the post could serve Mr. Lacombe well. Nestled between the New York Philharmonic's brash swagger and the Philadelphia Orchestra's patrician mien (and close enough to both cities to warrant occasional notice), the New Jersey Symphony projects a neighborly approachability. On Thursday, Bart Feller, the principal flutist, addressed the audience before the concert. Orchestra members fielded questions in the lobby during intermission.
Following suit, Mr. Lacombe took a moment to describe his friendship with the Canadian composer Jacques Hétu, whose lush, cinematic symphonic poem "Sur les Rives du St.-Maurice" ("On the Banks of the St.-Maurice") opened the program. The orchestra's chief assets — a rich, blended string sound; nimble principal winds and French horn; a robust low brass section — were instantly evident, and Mr. Lacombe marshaled them effectively.
Jennifer Koh, a superb violinist whose New York engagements chiefly involve challenging contemporary fare, played with consummate skill and passion in Brahms's Violin Concerto. Perhaps Ms. Koh's diverse activities ward off dull routine: her account had a compelling mix of intelligence and freshness, with a spectacular showing in the first-movement cadenza. Mr. Lacombe's accompaniment emphasized flowing cantabile lines and warm mahogany tone.
A similar feeling of sung melody permeated the soulful Largo in an imaginatively molded account of Dvorak's "New World" Symphony. Introducing the encore, Brahms's Hungarian Dance No. 21 in Dvorak's orchestration, Mr. Lacombe referred to the friendship between those composers, and between himself and Mr. Hétu, who died in February. Signs of a comparable bond between Mr. Lacombe and his new orchestra are already evident.
© 2010 The New York Times