Providence Journal
By Channing Gray, Journal Arts Writer
January 22, 2009
original link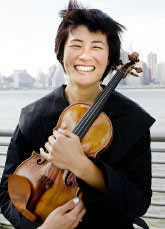 Violinist Jennifer Koh will play
the Brahms concerto Saturday
at 8 p.m. at Veterans Memorial
Auditorium.
Violinist Koh will perform with R.I. Philharmonic
Violinist Jennifer Koh does not think of playing music as a job. For her, it's a passion.
"For me it's impossible to think of music as a career," said Koh, who joins the Rhode Island Philharmonic this weekend for a performance of the Brahms concerto. "It's always been a part of my life."
Koh is speaking from her New York apartment where her pianist husband, Benjamin Hochman, could be heard in the background practicing the last movement of the Moonlight Sonata. She and Hochman rent a long apartment, she said, where each has a studio at either end of the residence with doors in between.
"I think he's playing it soon," she said of the Beethoven, confessing that she's not up on every wrinkle of her husband's career.
Koh was born to Korean parents outside Chicago. Her mother is an academic and her dad owns a small business.
She said her parents grew up during the Korean War and led lives of deprivation. They wanted her to have the things they didn't as youngsters, and signed Jennifer up for a host of activities, including ballet, gymnastics, swimming and music. Music took.
By 11, Koh had made her debut with the Chicago Symphony. And in the 1994-95 season, when she was a freshman at Oberlin College in Ohio, she won something akin to the triple crown — Moscow's coveted Tchaikovsky Competition, the Concert Artists Guild Competition and a prestigious Avery Fisher Career Grant.
It was at that point that her career took off.
Curiously, though, even after that she had doubts about becoming a professional violinist. At Oberlin she had a double major, music and English. She is an avid writer of poetry, something she still does for pleasure.
She said she went to Moscow to compete in part because she was "obsessed" with Russian history and literature.
"I wanted to see Russia firsthand. I was in love with the idea of being there."
Koh likes to play a lot of contemporary music, and she often juxtaposes contrasting pieces on her concerts and recordings. Her first recording for Cedille records paired the great Bach violin chaconne with turn-of-the-century chaconnes by Max Reger and Richard Barth. Her most recent recording, which features the music of contemporary composers Lou Harrison, John Adams and Carl Ruggles, along with a commission by Jennifer Higdon, was nominated for a Grammy.
Koh is also a committed educator, who has performed for thousands of students in schools across the country, kids who otherwise have little opportunity to hear classical music.
"Music is a visceral experience," said Koh, "that can create a positive outlet for emotions and a place for inner expression that is more compelling than time spent in front of the television or at the mall."
Koh recently performed the Brahms, among the top handful of concertos ever written, in Portland with the Oregon Symphony. The performance was voted by the local media the outstanding cultural event of 2008.
The concerto has such depth that she sees new things in it each time she returns to the score.
"It's up there," she said of the Brahms. "It's definitely one of the greats."
Koh was at one point a competitive swimmer, but really she said there's nothing in her life that isn't touched by music.
"I do feel that being a musician is a 24-hour-a-day experience. It's about how you process things, how you perceive things like sunlight falling through the trees.
"It's a great metaphor for how to live life, to being open to discovery."
Jennifer Koh joins the Rhode Island Philharmonic Saturday night at 8 for the Brahms concerto at Veterans Memorial Auditorium. Conductor Larry Rachleff will also lead the orchestra in Brahms' Haydn Variations and Hindemith's Concert Music for Strings and Brass. Tickets are $29 to $69.
Koh will also appear during an open rehearsal tomorrow at 5:30 p.m. at Veterans Memorial Auditorium. Tickets for that event are $27, $12 for students. Call (401) 248-7000 or log on to www.riphil.org.