clevelandclassical.com
By Daniel Hathaway
November 2, 2009
Jennifer Koh mesmerizes Finney Chapel audience with solo violin program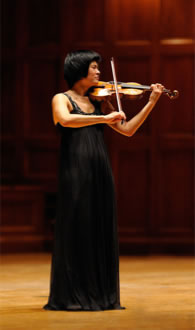 Photo by Roger Mastroianni
Pulling off a really successful solo recital like a one-actor stage show requires both a performer with charisma and attention-riveting talent, and great material to work with. Concert violinist and Oberlin graduate Jennifer Koh succeeded brilliantly on both counts last Thursday evening at Oberlin's Finney Chapel in a program of music by J.S. Bach, Eugene Ysayë, Elliott Carter, Esa-Pekka Salonen and J.S. Bach again.
All the works on Ms. Koh's program were related to each other in real, symbolic or metaphysical ways. She began with J.S. Bach's Partita No. 3 in E, whose famous prelude was recycled by Bach into the opening movement of the Sinfonia to Cantata BWV 29, where solo organ takes the violin part against a brilliantly scored orchestra. After traversing the festive Preludio, the wistful Loure, the dancy and picquant Gavotte en Rondeau, the charming Menuets, sprightly Bourée and bouncy Giga, she seemed suddenly to recapitulate the Preludio but no, she had merely moved on without pause to Ysaÿe's Sonata No. 2 in a ('Obsession'), which begins by quoting Bach's theme. But then, bizzare things begin to happen to that cheerful tune as Ysaÿe combines it with the 'Dies Irae' tune, which turns out to be the obsession in this four-movement piece.
After building to a demonic intensity, the first movement gives way to a more lyrical, muted slow movement. The third continues the mood with 'Dies Irae' played pizzicato, then over a folksy, bagpipe-like drone. This ends with quick roulades and leads into the fourth movement, a wild cadenza with ponticello echoes and bow-hair breaking violin fireworks. And then we all exhaled. Joining the Bach seamlessly to the Ysaÿe was a masterful idea and immediately validated Ms. Koh's concept of linking Bach with newer music that still shows his influences.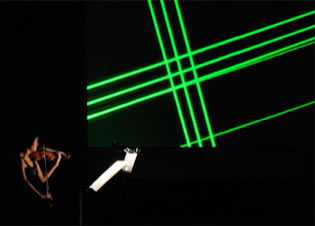 Photo by Roger Mastroianni
Next came two 'in memoriam' pieces: Elliott Carter's 'Fantasy — Remembering Roger (Sessions)' from the 'Lauds', and Finnish composer Kaija Saariaho's 'Nocturne — In memory of Witold Lutoslawski'. Ms. Koh played Carter's busy but incoherent Fantasy with flair and passion she obviously sees more in it than we do then brought quite a different but compelling variety of voices to Saariaho's atmospheric tribute. Lasting only six minutes, the 'Nocturne' began tentatively with whispers and other-worldly sounds, progressed to a more energetic section festooned with arpeggios and more strange timbres including creaky noises produced at the frog of the bow. The composer set out to represent the fragility that is "a metaphor for one's life line which so easily gets broken".
After a break to bring on lighted music stands and a video technician, Ms. Koh installed an earphone for the click track which would coordinate the music of Salonen's 'Lachen verlernt' with video devised by Tal Rosner. The title comes from Arnold Schoenberg's 'Pierrot Luniere', a poem in which the narrator admits that she has forgotten how to laugh and asks Pierrot to give that skill back to her. Salonen: "I felt that this is a very moving metaphor of a performer: a serious clown trying to help the audience to connect with the emotions they have lost, or believe they have lost." In terms of its harmonic structure, the work is structured as a Chaconne.
As the work unfolded from its opening melody to its dizzying conclusion and short, peaceful coda, Rosner's video closely followed and interpreted Salonen's dramatic music in visual terms. Parallel lines (suggested by violin strings) came and went against a bright green background, multiplying or diminishing in number as the music flowed or ebbed, endlessly rearranging themselves into different patterns, morphing into different shapes and eventually exchanging colors. Music and video together drew the audience into an affecting emotional voyage. We would enjoy the opportunity to hear this piece again both with and without visual collaboration.
After intermission, one work remained: J.S. Bach's Partita in d, which must have been a big surprise to ears who first heard it in Bach's day. It starts out as a charming and well-behaved set of standard dance movements — Allemande, Courante, Sarabande & Gigue — then the monumental Chaconne bursts onto the scene to explore the possibilities of a little bass progression in sixty-four variations. Ms. Koh was a sensitive interpreter of Bach's astonishing genius, pacing the work marvelously, lingering on important harmonic moments without interrupting its forward movement, pointing up the lovely surprise of the D Major episode, and digging in wonderfully to the virtuosic passages. Another general exhaling and a standing ovation followed the return of the original Chaconne and the end of this mesmerizing work.
This entire evening was as close to perfect violin playing as one is likely to hear. Jennifer Koh drew a capacity audience into the special world of solo violin music on Thursday evening with her gracious stage presence, gorgeous tone, flawless intonation, right on interpretations and virtuosity deployed only in service to the music. One left Finney Chapel knowing that this had not been an everyday experience.
© 2009 clevelandclassical.com