Straight.com / Vancouver Free Press
By Jessica Werb
November 28, 2008
original link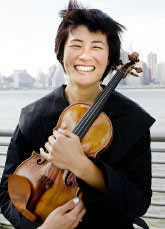 Violinist Jennifer Koh will play
the Brahms concerto Saturday
at 8 p.m. at Veterans Memorial
Auditorium.
Jennifer Koh casts a spell
At a packed Heritage Hall last night, Jennifer Koh, armed with her ex-General Dupont 1727 Stradivarius, attacked intensely modern music for solo violin that had the instrument squealing, barking, and generally creating sounds that might have left Antonio Stradivari scratching his head in confusion.
A mix of selections from Elliot Carter's Four Lauds for Solo Violin & György Kurtág's Signs, Games and Messages kicked off the evening, and John Zorn's Goetia (written for Koh) and Esa-Pekka Salonen's Lachen verlernt closed it. Challenging for both performer and listener, these works displayed Koh's versatility, and her obvious love affair with new music.
But the piece that truly enraptured the assembled crowd was her breathtaking interpretation of Johann Sebastian Bach's Partita in D Minor, BMW 1004, which preceded the Zorn. Some soloists impose their will on Bach, pulling and twisting at the phrasing with too much abandon. But Koh tapped into the essence of the music with such quiet depth and purity that she transformed the performance into an almost spiritual experience.
Given the right circumstances, it's not difficult to make me well up with tears; getting my boyfriend to do so is another matter. He and numerous other listeners were visibly moved by Koh's playing.
And while the intellectual Zorn and Salonen that followed were compelling in their intricacy, it was the Bach that remained when the music stopped.