TIMEOFF
By Susan Van Dongen
December 28, 2006
original link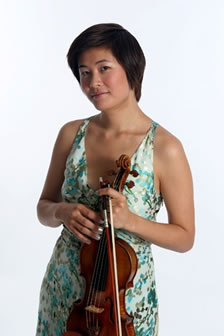 Violinist Jennifer Koh will make her debut
with the New Jersey Symphony Orchestra
under conductor George Manahan Jan. 5.
Literary Violinist
Jennifer Koh joins the New Jersey Symphony Orchestra for an evening of Tchaikovsky at Richardson Auditorium.
It was the writings of Czech author Milan Kundera that led violinist Jennifer Koh to composers from that part of the world. In her most recent CD, Portraits (Cedille), she tackles the music of the late Romantic Polish-born composer Karol Szymanowski and Bohuslav Martinu, who grew up in what is now the Czech Republic, as well as Béla Bartók, a Hungarian. The works are challenging, sumptuous and emotionally charged, like the novels and short stories of Mr. Kundera.
"I just binged on him," Ms. Koh says. "And after reading so much of his work, I was also delving into music of that region, which inspired that CD. He was the son of a concert pianist and he writes about music in an informed and intelligent way. When Kundera writes about different composers, about the way they do themes and variations, (he speaks of) music as a metaphor for life. We repeat our own different cycles, variations on the themes of who we might be."
Ms. Koh's love of literature is ardently tied to her music. In addition to studies at the Curtis Institute of Music in Philadelphia, she holds a performance diploma in music from the Oberlin Conservatory —and also a bachelor's degree in English literature from Oberlin College in Oberlin, Ohio.
"It's such a strong point of inspiration for me," she says. "At Oberlin, the emphasis was on creative writing and poetry and it's something that continues to be of great interest to me. All of these art forms are closely related to each other and inspire each other in a sense — whether the writing is inspired by music or vice versa. This has always been intriguing to me."
The literary violinist, described in The New York Times as a "fearless soloist" will make her debut with the New Jersey Symphony Orchestra under conductor George Manahan, with a series of concerts featuring Tchaikovsky's Violin Concerto in D Major. Ms. Koh will be at Richardson Auditorium in Princeton with the NJSO Jan. 5, followed by a performance at NJPAC in Newark Jan. 6 and at the Morristown Community Theatre Jan. 7. The program also features Beethoven's Symphony No. 8 and Shaker Loops by John Adams.
A virtuoso of unusual versatility, Ms. Koh puts her passion and artistry into the music of Mozart, Bach and Schubert, but also frequently plays works by contemporary composers such as Elliott Carter, Charles Wuorinen, Ornette Coleman and John Zorn. Her concerts have been noted for their eclectic programming. Ms. Koh's 2005 recording Violin Fantasies (Cedille) has been praised for its sense of adventure and brilliant musicianship.
With such diverse taste, Ms. Koh is often asked how she likes performing "old war horses" like the Tchaikovsky violin concerto.
"I'll approach Tchaikovsky and Mozart in the same way I approach new music," she says. "I feel that each period informs the other. Having recently done the Ligeti concerto changes how I'll do the Tchaikovsky — it makes it even fresher in a way. It doesn't mean you ignore the rules or the time period the piece was written in. A lot of times it's about broadening your ideas of different kinds of sound and broadening your sound palette."
One of the composers she collaborated with on Violin Fantasies was saxophonist John Zorn, known for his explorations in free jazz and improvisation.
"He's a jazz musician who has moved into the world of classical or concert music — in other words, things that you don't improvise on," Ms. Koh says. "It's been very interesting, working both with Ornette Coleman and John Zorn. There's a sense of breath in their compositions, a kind of freedom that you feel in jazz.
"I see more similarities between the language of jazz and classical music than differences," she adds. "I like strange connections between composers, for example from Schubert to Ornette Coleman to Schoenberg. They're different composers in different time periods. What's interesting is that, with Ornette's piece, there's an interesting songlike quality that people associate with Schubert."
Her curiosity and adventurous spirit has also led Ms. Koh to be a champion of new original music. This season Ms. Koh is premiering two works which have been commissioned especially for her, including String Poetic by Philadelphia-based composer Jennifer Higdon.
"I've known her since my time at Curtis and this was a project we had spoken about for a long time," Ms. Koh says. "We found a consortium to fund the work, which was a wonderful thing. We've already performed it at the Kimmel Center and it'll be making its New York debut at the 92nd Street Y on Valentine's Day. Jennifer says being in Tennessee, looking out at the mountains was her inspiration. It's interesting how different backgrounds inform one's creativity."
Born in Chicago to Korean parents, Ms. Koh worked extensively with Jaime Laredo at the Curtis Institute and also counts Felix Galimir as an important mentor from Curtis. Since the 1994-1995 season, when she won the International Tchaikovsky Competition in Moscow, the Concert Artist's Guild Competition and the Avery Fisher Career grant, Ms. Koh has been heard with leading orchestras and conductors around the world, including the Chicago Symphony, the National Symphony Orchestra, the Detroit Symphony, the Dortmund Philharmonic of Germany and the Moscow Radio Symphony. In December 1999, Ms. Koh made her Carnegie Hall debut performing Mozart's Concerto in A Major, with the New York String Orchestra under Jaime Laredo.
Last season, she performed the Ligeti Violin Concerto, with a cadenza written expressly for her by John Zorn. In July 2006, she made her debut with the New York Philharmonic, performing the Tchaikovsky Violin Concerto. This season she's been in high demand as a guest soloist with a number of American orchestras, including the NJSO, the Los Angeles Philharmonic and Orchestra 2001. She plays a 1727 Ex Grumiaux Ex General DuPont Stradivari, lent to her by an anonymous music lover.
With all the music in her life, however, Ms. Koh treasures her love for literature, in fact she regularly writes poetry. Studying classical music, especially performance, can place a person in a kind of hermetically sealed environment, so pursuing writing and literature is liberating and gives her time in another, equally creative world.
"It is also a great opportunity to open a lot of doors and windows for me," Ms. Koh says. "It is a wonderful way to meet people in other fields who are as passionate about their work as you are about your music."
Copyright © 2007 PACKETONLINE News Classifieds Entertainment Business - Princeton and Central New Jersey